Jurnal Dunia Kesmas was published by the Faculty of Public Health, Malahayati University with a professional organization of Persatuan Dosen Kesehatan Masyarakat (PDKM).

This journal contains articles from research, critical analytical studies in the field of public health (Epidemiology, Biostatistics, Environmental Health, Health Promotion, Reproductive Health, Public Health Nutrition, Administration and Health Policy, Occupational Safety Health).

This journal was first published in January 2012 in print. Since 2012, Jurnal Dunia Kesmas has published in print and online.
And since January 2019 - 2024 . Jurnal Dunia Kesmas has National Accreditation at SINTA-5 SK NO. 85/M/KPT/2020 (Kementerian Riset dan Teknologi/ Badan Riset dan Inovasi Nasional)

For writers who want to submit the article, first, follow the guidelines of writing and follow the template that has been provided.
Guidelines and template writing can be seen here:
Writing Templates (Template Penulisan)
Online Submission (Cara Submit Online)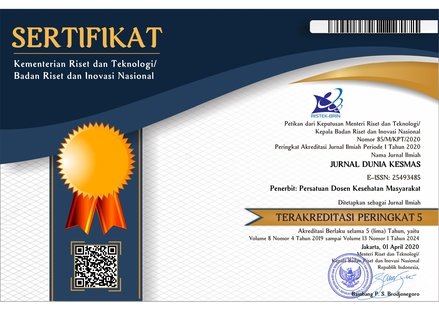 Informasi
Submit Jurnal

Ketentuan Submit Jurnal Harap mengisi Google form https://docs.google.com/forms/d/1Pi5I4n1hIuS_vVh27xp4lBZa3pUQTB7sKWipmJ5okz0/edit

 

Dikirimkan: 2021-10-12
Vol 12, No 3 (2023): Volume 12 Nomor 3
Daftar Isi
Artikel
| | | |
| --- | --- | --- |
| | Subhan Zul Ardi, Lisa Arianti Lestari | 1-7 |
| | | |
| --- | --- | --- |
| | Hafiratul Usfa, Christin Angelina Febriani, Nurhalina Sari | 8-17 |
| | | |
| --- | --- | --- |
| | leni warda wardani, Lolita Sary, Fitri Eka Sari | 18-27 |